Your Blockchain Advisors team is freshly returned from the Bitcoin 2022 conference in Miami. It was a very worthwhile and uplifting experience. There were over 25,ooo attendees with some terrific presenters. This attendance makes it not only the largest Bitcoin conference in the world but I also understand it is the largest financial conference in the world. Miami Mayor Francis Suarez was joined by both the Miami Beach Mayor-Dan Gelber and Miami-Dade Major-Daniella Cava to welcome the attendees and usher in the conference.
One of the unique things about Francis Suarez is that he gets his salary paid in Bitcoin (BTC) and he allows employees of the city to get paid in BTC. Mayor Suarez stated that his vision for the future includes supporting Pr0-Bitcoin candidates for election, integrating Bitcoin into every fabric of society, and unleashing the macro power of bitcoin by bringing the unbanked, that are being decimated by inflation, into the fold. Mayor Suarez stated that Bitcoin "allows people in communist countries to start moving towards freedom." He also stated, "We want a world of economic peace and prosperity."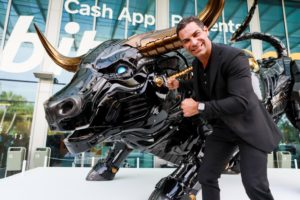 Mayor Suarez unveiled the crypto bull at Bitcoin 2022. He said this established Miami as "the world capital of the crypto industry."
A major theme of the Bitcoin conference is that Bitcoin is a peaceful revolution that allows citizens of oppressive regimes to start taking control of their finances for the benefit of themselves and their family. It is an option to store your economic energy in an asset of limited supply that cannot be seized by any government and there is no other asset like it in the world. It is digital, decentralized, immutable, global, and is of limited supply. These benefits make it attractive to humans all over the world. While Americans and inhabitants of other "advanced economies" view BTC as an investment, it is a necessity to many individuals around the world for the economic freedom that it provides. We will touch on all of these topics, in depth, in future posts.